Thanks again to our community who voted day in and day out!  ClearUP® tied with WOWCube and Comper ThermArt for first place in the prestigious Last Gadget Standing People's Choice Awards. Congratulations to our fellow winners. We greatly appreciate your consistent support throughout the voting process!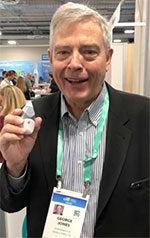 Thousands came by our booth 50527 at Eureka Park.  We were often 8-10 people deep at any time with future partners and allergy-ridden sufferers waiting to learn about and experience the revolutionary results of ClearUP. "I tried it the first day and I came back the next day and I can't wait to get one" said one attendee.  "I am a happy customer… Four days ago I got one of these and two days ago, everything is better," said George Jones.
Thousands more passed by the CES Innovation Showcase room to take a peek at all of the great products on display, including ClearUP Sinus Pain Relief.  Here's our VP of Manufacturing, Chandra Durisety at the showcase.
What an honor for Tivic Health CEO Jennifer Ernst to speak at the Digital Health Summit on A New Wave of Electric Medicine: No Rx Required in front of a large tech crowd of 500+. Important publications like Forbes and PC Magazine covered it here.
Here's some more notable CES media coverage for ClearUP:
Looking forward to CES 2021!
Tivic Health Team