As COVID-19 cases continue to surge across the U.S., and with flu season still upon us, doctors are also seeing more patients suffering from winter allergies this season. How can we tell if we're suffering from COVID-19, winter allergies, the flu, or just a cold?
Earlier this year, we published a blog article with Dr. Subinoy Das, M.D., Chief Medical Officer at Tivic Health, manufacturer of ClearUP® Sinus Pain Relief, discussing the major symptoms of allergies, flu and COVID-19.
Since then, researchers have learned much more about COVID-19, and we wanted to share the latest on how symptoms can vary for these conditions. This diagram published by the Centers for Disease Control and Prevention (CDC) shows the key similarities and differences between allergies and COVID-19: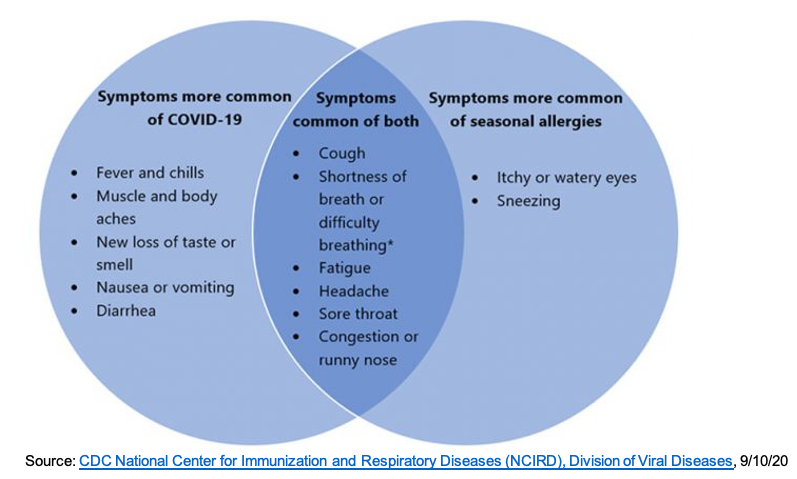 Dr. Maeve O'Connor, founder and Medical Director at Allergy Asthma and Immunology Relief of Charlotte, North Carolina says, "The fear of catching the virus keeps the majority of people in their homes much more than in previous winter seasons, leading to prolonged exposure to common allergens such as dust mites, pet dander, and mold.
"Patients with winter allergies often report itchy, watery, "gritty feeling" in their eyes, nasal congestion and sinus pressure, sneezing, and itchy, dry skin.  However, sneezing, itchy eyes and skin are typically associated with allergies, and not COVID-19. Chronic symptoms like these that last for weeks or months are usually caused by allergies.
"Symptoms of COVID-19, flu, or a cold usually only display clinical manifestations for about two weeks and are accompanied by a fever."
This chart published by the Asthma and Allergy Foundation of America (AAFA) shows you what symptoms to expect for allergies, the flu, cold, or COVID-19. Click here to view larger image.
No matter which symptoms you have, it's advisable to wear a mask when around others, wash your hands often, and maintain social distancing. Check out the full list of COVID-19 symptoms and more tips to protect yourself and others on the CDC site.